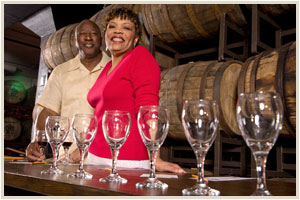 Complimentary Tours and Wine Tasting
are offered seven days a week. Monday - Saturday, 10 a.m. until 5 p.m. and Sunday - 11 a.m. until 5 p.m. Last tours are offered at approx. 4:00 p.m. everyday. Tours usually run every 30 minutes and begin with a 15 minute video presentation which shows the growing of the Florida grapes to the wine making process and the finishing with the bottling and labeling. Your personal Tour Guide will then show you the production area and the spectacular view of the vineyards where the grapes are grown and harvested. The Wine Tasting is held at the large tasting counter. A selection of award winning wines ranging from dry to sweet with sparkling are usually offered. The winery tour and wine tasting lasts approximately 45 minutes.
Afterwards, browse the large retail area with gift shop featuring all the Lakeridge Wines, gourmet foods such as fine olive oils, a variety of salad dressings, assorted cheeses, crackers, gourmet mustards, salsas and hot sauces. There are many other gift items and wine accessories for the home wine enthusiast, such as cork pullers and foil cutters, bottle coolers, stemware racks, picnic sets, customized T-shirts and hats, as well as a variety of cook books and wine reference guides.
Gift Baskets: Planning a special gift for a special person? The winery's experienced staff are more than happy to take your custom gift basket order, tailored to your individual tastes. Just stop by or call ahead and you will be pleasantly surprised by the excellent presentation of a gift basket full of your choice of gourmet items and wine.