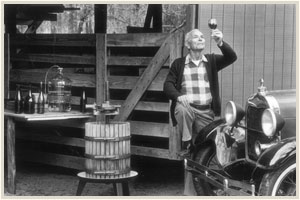 Lakeridge Winery and Vineyards officially opened in Clermont, Florida in 1989 headed by Gary Cox, as General Partner, with a small group of investors based out of Lafayette Vineyards in Tallahassee. The native varieties of the red Noble, bronze Carlos and Welder Muscadines, along with Florida hybrid bunch grapes including Stover, Suwannee, and Blanc Du Bois are all grown at the 127-acre Lakeridge Winery Estate, with and an additional 450 acres owned at Prosperity Vineyards in the Florida panhandle, and 200 acres under contract throughout Florida.
Situated among the rolling hills of Clermont, Lakeridge Winery & Vineyards offers complimentary winery tours and wine tasting seven days a week. Lasting approximately 45-50 minutes, the tour includes a brief audio-visual presentation, along with a guided walking tour of the facility, followed by the chance to experience a taste of Lakeridge's unique premium wines. Wine enthusiasts then have the opportunity to browse the large gift shop featuring all Lakeridge wines, gourmet food selections, and wine accessories.
Lakeridge Winery is the largest winery in Florida, with sister winery San Sebastian ranked a close second. Both wineries are now structured under the private corporation, Seavin, Inc., with Gary Cox as Founder, Board Chairman, Charles Cox as President, Carole Cox as Secretary, and Mandi Enix as Treasurer. The family has always had a strong commitment to produce quality wine, while providing a fun and educational experience for everyone and continues to remain Dedicated To Your Good Taste.