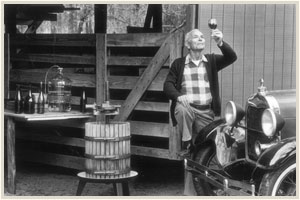 In 1988 an opportunity came the way of Gary Cox when some investors out of Orlando were interested in opening a winery in the Central Florida area. The thought soon came to fruition when the group, along with Cox purchased land in the Clermont, Florida area, which soon became the home of Lakeridge Winery and Vineyards. Lakeridge Winery and Vineyards officially opened in Clermont , Florida in 1989 headed by Gary Cox, as General Partner, and a small group of investors based out of Tallahassee 's Lafayette Vineyards and Winery. It became difficult however, to run both of the operations simultaneously, therefore Cox was forced to close the Lafayette Vineyards in Tallahassee and merge everything to the Lakeridge facility in Clermont, and now has total of 65 employees.
Although Gary had grown up predominately in the construction business working with his father Francis Boynton Cox, his dream was to have his own business. After finishing school Gary became a C.P.A. with the Tallahassee firm Williams, Cox, Weidner, and Cox, where he practiced accounting for about thirteen years. While traveling, Gary and his wife Carole often enjoyed visiting different wineries both in the United States and Europe . The interest grew from there. After he planted five acres of vineyards at his home he then decided to take the step to go forward with his dream of opening a winery. Cox decided to form the group to start the Lafayette Winery. A year later in 1983 Lafayette Vineyards in Tallahassee was born. One of the first employee's was wine maker Jeanne Burgess who has been with the company ever since.
In 1992 Gary 's son Charles joined the team at Lakeridge Winery to assist with the marketing, retail and ever growing special events which Lakeridge Winery would host. The two worked very well together and the match would prove successful. The winery has grown significantly in its wine production over the past years, which has allowed the Cox's to open a very successful second location in St. Augustine , Florida , San Sebastian Winery, which has proven itself as an industry leader.
The wineries are now structured as a private corporation with Gary Cox as Founder, Board Chairman, Charles Cox as President, Gary's wife Carole as secretary and Mandi Enix as treasurer. The family has always had a strong commitment to produce a quality product, with possibly an even stronger commitment to their customers. The Cox family invites you to either of their wineries for a free tour and wine tasting, whether a first time or repeat visitor, you are assured to have a wonderful time, as well as learn about the great wines Florida has to offer.