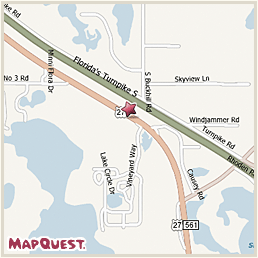 Click here
for complete online directions and a full view map of our location.
HOSPITALITY:
Complimentary tours and wine tasting, video presentation, viewing deck, Gift shop and Picnic area. Individuals and groups welcome 7 days a week; Mon-Sat, 10 a.m. - 5 p.m. and Sunday, 11:00a.m. - 5 p.m.
Please call in advance for large group tours.
SPECIAL EVENTS:
Arts and Crafts Festivals, Jazz Concerts, Harvest Festivals, Grape Stomping (see Events section)
FACILITIES:
Over 35,000 square feet under roof ... stainless steel, water cooled storage tanks ... current tank capacity 420,000 gallons. Sparkling wine caves 20,000 bottles ... Bottling capacity 2300 cases per day.
PRODUCT:
Premium sparkling and table wines from Florida hybrid bunch and Muscadine grapes.
BRANDS:
Lakeridge ... Lakeridge Reserve
ACREAGE:
Approximately 127 acres at winery site.
VINEYARDS:
80 acres. Florida hybrid bunch grapes include Stover, Suwannee, and Blanc Du Bois. Also planted are the native American varieties Noble, Carlos and Welder Muscadine. Typical yield at maturity, 6-7 tons/acre ...160 gallons/ton ... 1000 gallons/acre ... approximately 5000 bottles/acre.
LOCATION:
U.S. Hwy. 27, 3 miles south of Florida's Turnpike Exit 285 and 6 miles north of Clermont. Approximately 25 miles west of Orlando via Hwy. 50, and 30 miles north of Walt Disney World ® via U.S. 27.